Hotel Lodging Near Canton
From our hotel lodging near the neighboring city of Canton, you'll be perfectly located in the downtown Akron business district and nearby some of Ohio's most scenic attractions. Within just a few miles of our, Ohio hotel, you'll find wineries and the Cuyahoga Valley Train.
The beauty of Amish Country is also easily accessible from our Akron hotel. The heart of Ohio Amish Country is only 40 miles away. The Quaker Square Inn at The University of Akron provides the ideal Akron, Ohio hotel location to see it all.

Akron, Ohio Attractions
Cuyahoga Valley Train Rides - 10 miles
Akron Zoo - 5 miles
Ohio Amish Country - 40 miles
Cedar Point - 70 miles
Akron University - 1 mile
Kent State University - 15 miles
The Winery at Wolf Creek - 5 miles
Cleveland Zoo - 30 miles
Canton Football Hall of Fame - 20 miles
Rock & Roll Hall of Fame -30 miles
John Knight Convention Center - less than 1 mile
Akron Art Museum - less than 1 mile
Lock 3 - less than 1 mile
Inventors Hall of Fame - less than 1 mile
Dr. Bob's House - 1 mile
Blossom Music Center - 10 miles
Boston Mills Ski Resort - 15 miles
Carousel Dinner Theatre - 10 miles
Canal Park Stadium - 1 mile
Stan Hywet Hall - 5 miles [Top]

North Canton, Ohio Airports
Akron/Canton Regional Airport (CAK) - 17 miles
Cleveland-Hopkins International Airport (CLE) - 37 miles [Top]

Directions to Akron, Ohio Hotel
From Cleveland (Eastern Suburbs) Erie & Buffalo. I-271 South to I-77 South/Akron. Exit #22A Main/Broadway. Left on Broadway. 1.2 miles. The Quaker Square Inn at The University of Akron hotel is on the right.
From Cleveland Hopkins Airport & Western Suburbs Via I-77 South. Exit airport, turn left at traffic light to 480 East. Follow 480 East (approximately 10 miles) to I-77 South. Follow I-77 south to Exit #22A Main/Broadway. Left on Broadway. 1.2 miles. The Quaker Square Inn at The University of Akron hotel is on the right.






From Cleveland Via I-77 & Ohio Turnpike East Bound. Follow I-77 south to Exit #22A Main/Broadway. Left on Broadway. 1.2 miles. The Quaker Square Inn at The University of Akron hotel is on the right.
From Youngstown, Pittsburgh, Ohio & PA Turnpikes, West Bound and I-80. Take 76 West to I-77 North to Downtown Akron, Exit #22A Main/Downtown, merge right on S. Broadway 1.2 miles. The Quaker Square Inn at The University of Akron hotel is on the right. [Top]

Hotel Location Map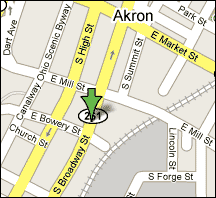 [Top]

Quaker Square Inn at The University of Akron Hotel - Ohio (OH)
135 South Broadway, Akron, Ohio (OH) 44325-9002