Akron Hotel and Silo
The Quaker Square Inn at The University of Akron Hotel offers a singular luxury experience. The hotel springs from a converted silo complex that once held more than 1.5 million grain bushels. In recognition of our significant Akron, Ohio hotel and silo complex, the Quaker Square Inn is listed on the National Register of Historic Places.
Akron Ohio Hotels. Each sumptuous Akron hotel guest room conforms perfectly to the round shape of the silo and is elegantly decorated with traditional furnishings. In our well-appointed Akron, Ohio rooms and suites, find superb amenities including complimentary high-speed Internet, premium cable TV, coffee maker, hair dryer and enhanced radio.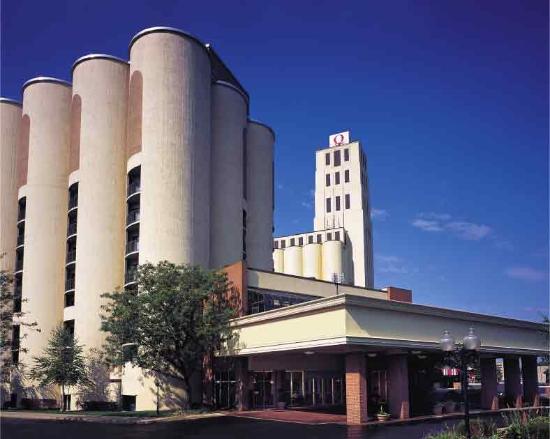 Akron, Ohio Hotel Amenities. Luxurious services and amenities await you at our Akron, Ohio hotel specially designed to delight business and pleasure travelers alike. Wake up to complimentary daily hot breakfast buffet, work out at our on-site fitness center, find what you are looking for at our on-site Zee's convenient store and shop for unique items at our General Store. You'll also enjoy full use of our business center. Extensive meeting and convention space at the hotel is also available.

Akron-Canton, Ohio Airport Hotels. Conveniently located in downtown Akron close to the airport, our hotel is perfectly placed for conventions and business in Akron, Ohio. Plus, close to exciting sightseeing and attractions. Our Akron-Canton, Ohio airport hotel gives you the perfect home base for visiting top sites like the Rock and Roll Hall of Fame and Museum, the Cleveland Metroparks Zoo, Ohio wineries, Stan Hywet Hall & Gardens and Ohio Amish Country.

Getaways Hotel in Akron Ohio. Exciting getaways are all around you in the Akron-Canton, Ohio area. Choose a romantic adventure in Ohio, or have some fun with the whole family at the Cleveland Zoo or Akron Zoo. Top museums are also located in Northeast Ohio, like the Rock and Roll Hall of Fame and Museum. We've created exclusive vacation packages designed to make sure you get the ultimate Akron hotel deal.
(Please note: Quaker Square Hotel is now a Residence Hall for students of the University of Akron. Please make alternative accommodation arrangements.)

Quaker Square Inn at The University of Akron Hotel - Ohio (OH)
135 South Broadway, Akron, Ohio (OH) 44325-9002